What's New - Check out our latest featured products and more!
Home >
3d Cad Program - 2D/3D CAD Drawings in REVIT, ACIS, DWG, DWF, STEP
Watts 3d CAD Program
We are pleased to announce the release of our online 3d CAD drawing program available in the Engineer Resource Centre or on applicable product detail pages. The Architectural, Engineering, and Contracting community can preview and download the new 3d as well as 2d CAD files in a variety of popular industry formats. Our new 3d files are designed for use in most popular Building Information Modeling (BIM) applications.
CAD Drawings Library
This page lists all products with available CAD Drawings. Simply click the series name for a list of all available drawings, located on the designated product details page.
Product Details Page
3d CAD files are also available on applicable product detail pages. Simply navigate to the product you are interested in and click the CAD tab. Below are instructions for how to access these drawings.
Tab Navigation
Click on the "CAD" tab to view available models and file types.
Select available models from the list on the left.
Select from a 2d or 3d view from the drop down menu of model
selected.
Click "Download" to retrieve the specific file type.
Preview the 3d view with
Viewpoint Media Player.
More Information
CAD Library Links
Available Formats
Revit
ACIS
DWF
STP
JPEG
PDF
VRML
Specification Programs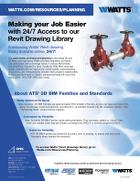 Click here to download the Watts Specification Programs Brochure